Tony Sigmund Sets World Record
June 30, 2022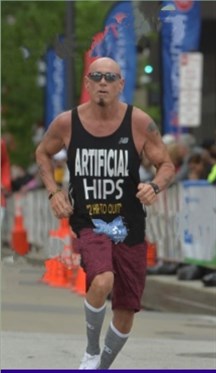 When Tony Sigmund crossed the finish line of the Union Home Mortgage Cleveland Marathon on May 22, 2022, he set a world record as the fastest person with two hip replacements to run 26.2 miles.  His time was three hours and 51 minutes.
At age 52, Mr. Sigmund is not new to distance running.  "When I started, I wanted to see if I could do 10 miles," he said.  "When the Cleveland Marathon celebrated it's 27th anniversary, I ran a marathon every day for 27 days," he said.  "I've done a lot of crazy things." 
His hips needed replacement as a result of being struck by a vehicle while out running.
Mr. Sigmund works in physical therapy and as a fitness trainer.  When asked what advice he would give to someone thinking about entering a race, "Don't overdo it," he said.  "I know how that sounds coming from me."
He went on, "Don't limit yourself in terms of what you believe you can do.  Don't be afraid to live."  He has run other events such as Boston and Detroit and has raised funds and awareness for charities such as the Boys and Girls Club of Cleveland.  
When asked if he plans to return and run again next May, he said, "Yep.  I want to lower my time."