50/50: On the Doorstep to Completing a Marathon in all 50 States by the age of 50
February 25, 2020
Never did I imagine getting a simple postcard in the mail and a chance encounter in the dairy section would lead me on a journey to run a marathon in all 50 states by the age of 50.  Well, that is what happened back in the fall of 2000 and fall of 2005.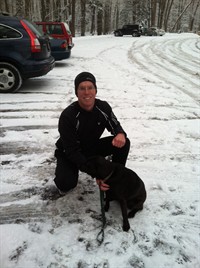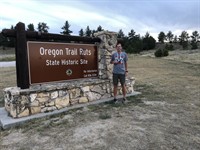 Back in 1993-2002 I lived in Wilmington, DE and worked for the Wilmington Blue Rocks baseball team (Class A Affiliate of the KC Royals).  Due to the hectic life and long hours (i.e. 15 hr. days) of working in baseball, my early years of running in the 90's were basically doing local 5k's and running around the warning track at the ballpark with our radio broadcaster Jim Rosenhaus (who coincidentally is Tom Hamilton's radio partner with the Cleveland Indians) and our finance director Craig Bailey. 
It wasn't until the fall of 2000 that my running life would change in a dramatic way; receiving a postcard in the mail from the Leukemia and Lymphoma Society (LLS).  They were promoting their Team in Training program featuring running a race in Maui, HI on March 18, 2001…provided I raise $5,000 for LLS!  After accomplishing the fundraising goal… and the marathon, I would go on to run a marathon in MD later that year and then two more marathons the following year in PA and VA.
At the end of the 2002 baseball season, I moved home to Cleveland to work for the new Lake County Captains (Class A Affiliate of the Indians).  After the craziness of opening up a new ballpark in 2003 and getting the new organization up and going I felt the need to get back into running.  It was then in 2004 that I heard about Bill Dieter and Second Sole in Rocky River (now in Lakewood) and how his running store had a running group that was free of charge to join.  With living in Westlake, I figured joining the group would be a good way to not only get back into running but also a great way to meet new people since I had lived in DE for about 10-11 years.
I must admit, having not run in the past two years or so, I was a little intimidated about joining an organized running group.  I figured I'd give it a try anyway.  Initially, I ran with the group a few times in the latter months of 2004 and then I stopped with the 2005 baseball season starting up again.  It wasn't until later in 2005, after the baseball season, that I had a chance encounter with Mike and Jen Erhardt in the dairy section at Giant Eagle in Westlake.  Jen had recognized me from before with running with them and the rest of the group from Second Sole.  She then came over and asked me "Are you Paul and did you used to run with Second Sole?".  I said "Yes".  I then went on to tell them that baseball season had ended and I wanted to get back into running again.  With that, I started showing up again on a regular basis to run with the group four times a week.
Little did I know that decision to re-join the Second Sole running group in the fall of 2005 would be a life altering move.  It not only introduced me to a really great group of friends, for they all were very welcoming, but it would also offer an opportunity to start an incredible adventure of running a marathon in all 50 states. 
I became aware of this challenge due to a select few of my new running friends: Mike Poretsky (aka: Big Mike), John Czelusniak (aka: Johnny C) and Matt Wiencek (aka: Matt Who) who were already on the quest to do the 50 states.  I had not heard of such a goal but it sure sounded appealing to me for I loved to travel.  So, one day I asked if I could join them on a future trip.  Thankfully they said "Yes" and so I began traveling around the country running marathons with my new friends.  Our first marathon trip was in March of 2006 to Little Rock, AR.  Funny thing about that trip was we ran more miles (26.2) than hours spent (24) in Little Rock for we landed in Little Rock at 5pm Saturday, ran the marathon Sunday morning, went to the Clinton Presidential Library afterwards and then flew out of town 5pm Sunday night!
After that first trip, I would go on to run many more marathons with them all over the country.  One of the best things about our trips was that we always made it a point to do as much sightseeing as possible whether it was visiting historical sites or National Parks/Monuments.  We figured while we were there in that new state, we might as well try and go see as much as we could!  And that we did!  Our typical rule of thumb though was to do the marathon at the beginning of the trip and then save the sightseeing/hiking at the end.  This way you could relax more afterwards and not have to worry about the marathon later that week.  Plus, the active recovery was a great way of stretching out the legs!     
There were a few times though, that based on availability, the trip would just be two or three of us.  There were even a handful of trips where I would do a marathon without them since they may have done that particular state already.  If so, then my brother Bob would most likely join me.  Those too were great trips (NH, ME, SD, AK, WY) for we would make it a longer trip by going hiking for a week at a nearby National Park(s) afterwards. 
And lastly, my other travel companions these past few years have been my wife Carrie and our four-year old son Charlie.  We recently combined marathon trips with family vacations to ND (2017) and MT (2019) where we too would visit a number of National Parks and historical places.  This past June I ran a tough marathon in MT.  I ended up struggling a lot that day and finished in 5:40.  A special moment for me though was running the last 50 yards or so with Charlie across the finish line.  The Race Director was great for he gave Charlie his own race medal to celebrate the moment.  Carrie must have waited an hour or more near the finish line so I could have that memorable experience with Charlie.  It meant the world to me!  Thank you, Carrie!
Oddly enough, one challenge I had encountered over these past few years was "marathon availability" in my remaining states of VT, SD, ND, AK, MT and WY.  Because of their locations, populations and weather each of these six states had limited marathons to choose from.  This meant my 12-month yearly calendar ultimately got shrunk down to only a handful of months (May-September roughly) in which I could run a marathon in those particular states.   This combined with the fact of working in baseball I then had to try and see what weekends I was available during the summer months to see how it matched up with the marathon dates.  Please keep that in mind if you too are on this quest.  As you get closer to 50 states, you may potentially have less options to choose from based on what states you have left.  Most of these particular states have something like 3 to 5 marathons, if that, to choose from…and some of which may fall on the same date as another state you are needing!  As you may imagine, with these particular states the fields can be pretty small.  My last two marathons in MT and WY had 43 and 56 runners respectively!  I saw one race in Alaska historically has about 20-25 runners.  Some races can be big whereas some can be much, much smaller!
Oh, you might be asking how did it come to be that I chose to complete my quest of doing my 50th state here at home in Ohio.  The plan was hatched one day after a run while we all were at the old Caribou Coffee near the Metroparks Marina.  My friend Tim Warren asked me which states I had completed.  I must have rattled off about 22-23 states and he said "Wait, you haven't done a marathon in Ohio yet?"  I basically replied "No, for I had been traveling with Big Mike, Johnny C and/or Matt Who the past few years doing the states with them.  It was much more cost effective to travel together since we could split up the costs of hotel rooms and car rentals.  Besides, it was also a lot of fun to travel together."  And with that Tim said "You should save Ohio as your last state!"  It turns out that was a great idea for I could now share my accomplishment of finishing my 50th state with all my running friends.  When you consider I have logged thousands of miles with them on our training runs over these past 17 or 18 years I might as well save the last 26.2 miles to do with all of them here at home at the Rite Aid Cleveland Marathon!  Besides, it also gives me the opportunity of having other friends and family to share in the event.
So, if you are thinking you are up for the challenge of doing a marathon, or even going after the 50 states, then I wish you the best of luck.  It is something that you will treasure for the rest of your life for you will learn so much about yourself and what you can accomplish both physically and mentally.  You will also meet some incredible people along the way.  And for those of you who want to do the states; then go for it.  You will be able to enjoy and see what our great country has to offer out there.  If anything, the marathons are the perfect "excuse" to go see it. 
And lastly, I have always said, "The hardest two feet in running is getting your feet out of bed and onto the floor."  Once you accomplish that, then anything is possible!  The goal is to just get started.  Once you do that, you then have momentum.  The vast majority of us will never win a marathon; which is perfectly fine.  The important part though is to get started and slowly build upon it.  Before you know it, you will be clicking off that higher mileage. And with that will come more confidence in your ability.  If you can run with a group, then even better.  Doing so will not only help you along but it will also open up a whole new group of friends.  Enjoy and have fun!
So, looking back at all those races following are a few memorable moments:
Total Marathons Completed: 50 (49 states with VA being doubled up with having done Richmond and Marine Corp).  I made it a point to be economical with my marathons once I decided to the 50 states!
Total Marathons Not-Completed: 0
Favorite Running Partner: Our dog Darcy.  She's a Black Lab/Border Collie Mix.  Thankfully she had the Border Collie body size for she typically joined me on my 6-mile Thursday and Sunday runs.  With her now being 11 years old she no longer runs with me.  She sure does like her walks though.
Most Marathons Completed in a Year: 8- 2009 (FL, AZ, NJ, MO, UT, MI, KS, TN)
National Parks Visited while on our Marathon Trips: 21
Top Marathon Finishes by Standing: (4 top 55 finishes)
Ridge Runner (WV)- 30th place…..out of 59 runners 😊
Big Sky Marathon (MT)- 33rd place…..out of 43 runners 😊
River Rat Marathon (SD)- 54th place…..out of 59 runners 😊
Sundance to Spearfish Marathon (WY)- 55th place…..out of 56 runners (although the 56th runner was only planning on doing a half-marathon…..so I guess that means I came in last!) 😊
I am not the fastest of runners but fall more in the middle of the pack.  (My average marathon time is around 4:41 with a PR of just under 3:59 at the Indianapolis Monumental Marathon (IN) and a PW of 5:52 at the Sundance to Spearfish Marathon (WY).) 
Airplane Mix-Ups:
In 2008, Johnny C plans to do the Portland, OR Marathon.  He goes online and buys his plane tix…for Portland, Maine instead!  When he realizes he chose the wrong Portland he then frantically looks on www.Marathonguide.com to see if there is by any wild chance a marathon is being held in the Portland, Maine area that same weekend.  Amazingly enough there is one there in Portland called the Maine Marathon!  That was a great trip for we had all met in Keene, NH the weekend before to celebrate running together in Big Mike's 50th state.  Instead of flying back home I ended up staying there in the New England states to go hiking with my brother Bob that week.  It was then at the end of the week I met Johnny C in Portland, Maine to do that race the following weekend.  Funny thing is I finished 3 minutes faster in the second marathon. 
In 2010, there are about 10 of us from the running group going to do the Boston Marathon.  That Saturday morning before the race, I met Big Mike over at his house to head to the airport with both him and Amy.  When I arrived, Amy was looking at the plane tickets and inquisitively asks something to the effect of "Honey, why does our plane tix coming back home from the marathon say it is for later today?!"  Big Mike accidentally booked their tix to arrive in Boston later that morning and then he had their return flight actually scheduled to stay on that same plane to come right back home!  He was like "What?!"  Thankfully he had lots of frequent flyer miles to get it changed…but he sure used up a lot of them.  Talk about an "Oh no moment!"
Humbling Marathon: Bataan Memorial Death March (White Sands Missile Range, NM)- It's all four of us and Big Mike's Friend Lon.  This marathon is a must do for everyone for you have the opportunity to meet survivors from the Bataan Death March.  Here we met about 10 of these brave men who survived hiking through 65 miles of the scorching jungles of the Philippines when the US/Filipino forces surrendered to the Japanese on the Philippean Peninsula during WWII.  Here we were meeting these survivors of this brutal experience and then have them say "Thank You" to us for running this race.  It was us who said "Thank you for your service."  We were all truly humbled being in the presence of these men. 
Favorite Marathon: Bataan Memorial Death March (White Sands Missile Range, NM)- Whenever I am asked which is my favorite marathon, I always say this one for everything stated above.  Besides, name me another marathon where you will read in the legal disclaimer to be sure to stay on the course, which runs through the missile range, at all times due to there being live munitions, poisonous snakes and scorpions out there in the desert!  If that doesn't get your attention, I don't know what will.
Deja Vu Moment: Tacoma (WA) City Marathon- It's me, Big Mike and Johnny C.  Very few marathons offer an early start.  When Johnny C hears about this, he signs up to take advantage of it since it allows you to start one hour before the regularly scheduled start time.   An hour later, Big Mike and I are in the corral waiting for the normal start time when I feel a tap on my shoulder.  It's Johnny C!  He and a number of other early start runners got lost and were back at the starting line…again!  They eventually got back on course but it sure was frustrating for him as you can imagine.  We both felt bad for Johnny C but it was also pretty darn funny if you know what I mean.  Of all our runs that is the only time that ever happened… thankfully!
Most Unusual "Pasta Party" for a Marathon: Baton Rouge (LA) Beach Marathon- Big Mike and I did this trip together where we came to find out that their idea of a "pasta party" the night before was instead having jambalaya and gumbo.  As the saying goes, "When in Rome….".
Windiest Marathon:Mesquite (NV) Tri-State Marathon- Big Mike and I made this trip together.  The buses took us all out into the desert to the southwestern corner of Utah.  From there we would cross into the northwestern corner of AZ and then into the northeastern corner of NV.  The first five miles were great as we had a slight downhill.  Then around mile 5 the course made a turn and we had a headwind of about 20mph the for the next 20 miles or so until we got into the town of Mesquite, NV.  What made it really interesting were the times we ran though areas where the road went through a slot in the terrain of rock/stone.  This created a funnel where the wind gusts were extremely strong at those cut throughs.  It was basically just put your head down and plow your way through it.  Big Mike later said the wind was so bad it had blown his salt tablets out of his pocket.  The other interesting thing about that race was they had the mile markers count down as opposed to counting up.  Psychologically it was really weird but very interesting.  Of all my marathons, this is the only race I have ever seen the mile markers set-up that way. 
Rainiest Marathon: Columbia Gorge (OR) Marathon- All four of us made this trip together.  Race morning would bring about stormy weather coming up the gorge.  Thankfully the first storm happened prior to leaving the hotel.  When we arrived at the park where the start was you could see the most vibrant rainbow drop right down into the Columbia River.  It was so amazingly bright I felt like you could literally row a boat out into the river to touch it.  Sadly though, we knew more storms were on the way as we waited for the race to start.  This forecast would come true around mile 4 when it just absolutely dumped on us.  We had no time to get our rain jackets/garbage bags on.  (Little hint to beginning runners- garbage bags are what I refer to as the "poor man's windbreaker".  Take it, turn it upside down and rip a hole for your head and rip holes for your arms so you can wear it like a windbreaker.  It does an amazing job and costs pennies when you feel the need to get rid of it.)  That day it rained on and off and it was windy as heck at the top of the gorge.  When it stopped raining; I took it off.  When it started again; I put it back on.  It's also very lightweight and really easy to hold onto.  I kept that garbage bag with me all the way until I pitched it into a garbage can just prior to crossing the finish line.  That thing was a lifesaver and I highly recommend it on bad weather days!  You'll be amazed!  Trust me.
Hottest Race Marathon: Ridge Runner Races Marathon in Cairo, WV- Tim and I did this one together.  The race was in June at this little state park called North Bend State Park.  Unfortunately, our room had no AC the night before the race…and it was hot.  They brought fans in but it was pretty futile in all honesty.  This was a small race (59 runners) and they offered an early start at 6am due to the heat; which Tim and I decided to go for.  It was like upper 70's/low 80's at the start.  I remember running by a bank marquee where they have the time and temp.  The temp was like 83 degrees at 8am.  It was just brutal conditions.  On the positive side it was also the least expensive marathon entry fee: $35.
BEAR on the Course!: Mayor's Marathon in Anchorage, AK- I did this race alone back in 2018 with my brother Bob joining me for the trip.  What made this one unique was the week prior to the race a guy went for a hike before dinner, about five miles near the marathon course, and never came back home.  Two people from the search party happened to find his body a few days later only to have a bear attack them and have it chomp on the guy from the search party a bit.  They went on with the race knowing the bear was still out there somewhere nearby.  Well, around mile 7, I saw a juvenile bear, about the size of a Bernese Mountain dog, wonder out from the brush onto the course about 10 feet from me.  I was a bit concerned…but more so because I was wondering where the momma bear was.  Thankfully I never saw her but it sure was something to see a bear so close with knowing what had taken place a few days beforehand!  To this day I do not know if they ever tracked down the bear that was responsible.  It's just the way life is in Alaska.  You just learn to understand that they are part of life up there just as we look at smaller wild animals here in Ohio.
It's Not What You Know, But Who You Know: Boston Marathon- I was never and never will be fast enough to qualify for Boston.  However, I had a pretty lucky way of getting in to run it in 2010.  Back in late 2008, I left the Captains to go work for the Lake Erie Crushers (Frontier League) in Avon.  Coincidentally, Nicole Meyer, our Community Relations Director at the time, was the daughter of Greg Meyer.  For those of you who don't know, Greg Meyer was the last American winner of the Boston Marathon in 1983 (with a time of 2:09:00) until Meb Keflezighi won it back in 2014 (with a time of 2:08:37).  Because he is a past winner, he is awarded "4 Golden Tickets"; which means if you have one you can get in without having to qualify.  When she heard I was doing the states she offered to see if she could get me a "golden ticket".  Thankfully she was able to do so and I was able to run in this historic race.  It was basically a 26.2 mile block party with all of Boston being out there to support us on Patriots' Day.  It was pretty amazing to experience it.