Proper Planning Prevents Problems – Getting Ready for Race Day
January 21, 2020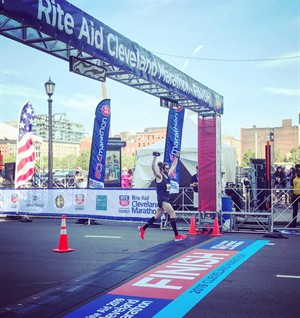 I always say that proper planning prevents problems.
So what can you do now to plan for Marathon weekend?
If you are running during the Rite Aid Cleveland Marathon weekend as your home course or you are traveling to the great city of Cleveland I am going to share a few of my favorite products and tips that you can use during your training now to prepare.
Apparel:
Start training in what you want to wear on race day. I don't wear anything NEW on race day. Repeat after me, NOTHING NEW. 
This is one thing you can control because no one wants clothes rubbing making your run uncomfortable. 
When race day comes, make sure to lay out your race day outfit if that is shorts & a tank, layers that you will throw, a banana suit or something in between - be comfortable!  Train in it now!
Shoes:
I get it, you scored a great new pair of shoes at the expo but again repeat after me - NOTHING NEW. 
Save that fresh pair of trainers for your next training session! Even if they are the same shoes you typically wear in a colorway you haven't seen yet, they can fit different.
My training shoes are Nike Pegasus Turbo 1s & 2s and I currently race in Nike Vaporfly 4% Flyknits. I got a great new pair of Nike Next Percents for Christmas and will be breaking them in during the weeks leading up to my first Boston Marathon in April and plan to wear them in Cleveland as well.
Nutrition: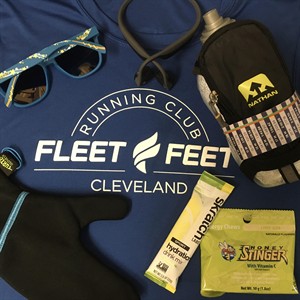 Guess what, NOTHING NEW on race day. Seeing a trend?
If your course uses something different than your typical running fuel, train with it before and see if it works. If it doesn't work for you, you have time to plan!
I use Honey Stinger energy chews on the course and know the gels work for me too. 
In my Nathan quick shot bottle, I always have Skratch Labs hydration sport mix in lemon lime.

Accessories:
Do you run with headphones? Have 2 pairs! My go to are After Shokz. They are bone conduction and great for awareness while running - you might even hear some fans cheering for you! 
Smart watch? My Garmin Forerunner 645 music is charged and ready to go with playlists ready to go.  
Sunny? Get yourself a pair of no bounce no slip glasses. Goodr glasses come in so many color combinations you will be sure to find what you want to make your race day look pop! 
Unpredictable weather - how about some Turtle Gloves? They are easy to flip on and off the mitten while still having control of your water/gels and more.
Start your training now:
So now is the time to start training! Work up to your max mileage per week depending on what race you are running. 
Rock your strength training.
Fight through the speed workouts. I loved the Speed Demons program through Fleet Feet Cleveland.
Don't give in to the urge to run more during your taper. No taper tantrums here! 
When it is almost race week... you will have your goal, your pace and are pumped to get to that finish line!
Let's get ready to rock Cleveland.