Detroit Shoreway
May 10, 2017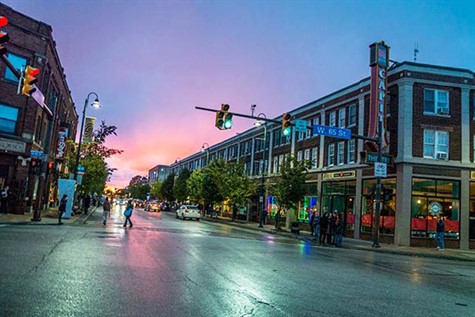 Running through
Detroit Shoreway
, you'll witness an example of a neighborhood that's been reinvented and is on the rise. It's a neighborhood proud of its diversity, rich cultural history and sense of community. 
Once a thriving commercial district, Lorain Avenue in particular suffered after the construction of Interstate 90 in the 1960s and continued to struggle in the decades since. Lately, however, an influx of breweries, restaurants and creative and funky businesses have helped the area rebound and runners will see evidence of its resurgence as they continue along the Rite Aid Cleveland Marathon and Half-Marathon routes. 
Located on Lorain Avenue at West 41st Street, between miles eight and nine as runners begin to leave Ohio City and enter Detroit Shoreway, is Platform Beer Company, founded in 2014. A few blocks down at 45th Street and Lorain is where Erie Social Shuffleboard Club and Bar is set to open late this summer on the site that was a dilapidated grocery store and warehouse. 
Near 65th Street, where runners turn right and the course heads north just past mile nine, is a 22-acre city park called the Michael J. Zone Recreation Center Park. The land was originally supposed to be used for a spur off Interstate 71, but neighborhood residents fought against the construction of more highway and the Ohio Department of Transportation abandoned its plans. The space that was left after the demolition of buildings in preparation to build the highway then became greenspace, and in 2012 the park underwent a $3.5 million renovation, including green features such as bioswales, permeable pavers, and native plantings.
Also in the area of 65th Street and Lorain Avenue is the Cleveland EcoVillage. This transit-oriented development initiative, which is centered around the Red Line light rail rapid transit stop, promotes environmentally responsible living, green building, ecological stewardship and centering walkable communities around public transit.
As runners continue up 65th they'll pass St. Colman Catholic Church. Detroit Shoreway was settled predominantly by immigrants from Ireland, Germany, Romania and Italy, and the new residents all built their own churches. St. Colman was the Irish church and the current building, a beautiful structure in the style of the Italian Renaissance and filled with stunning marble, was completed in 1918. St. Colman's masses are standing room only each St. Patrick's Day.
At 65th Street and Detroit Avenue is Gordon Square. Full marathon runners won't pass it until they're on their way back into downtown between miles 24 and 25, but half-marathon runners will reach the area just past mile 11. 
Gordon Square was the hub of commercial activity and social life in its heyday, but by the 1970s and 80s the area had decayed. Prospects for its future were bleak until a group of leaders with a creative vision known as the Detroit Shoreway Community Development Organization (DSCDO) began to reimagine the area. The Gordon Square Arts District was formed in 2006 and the development partners launched a $30 million campaign to renovate and restore several theaters and historic buildings and revitalize the neighborhood using the arts as the main draw. 
Runners will likely see the DSCDO-owned three-screen Capitol Theater, which was built in 1921 then sat vacant for three decades and suffered extensive water damage before being restored and reopened in 2009. It is located on 65th Street just north of Detroit. Runners will also go past the oldest Romanian Orthodox church in the country on Detroit Avenue, now owned by Cleveland Public Theatre. Also located on Detroit Avenue at West 67th Street is Near West Theatre, a community theater used for live performances. Near West's bright blue, $7.3 million building  recently received LEED Gold certification from the U.S. Green Building Council.
With the successful rebirth of Gordon Square, many private investments have resulted in new businesses opening up in the area and the renovation of formerly blighted buildings. 
One such example is Astoria, a Mediterranean cafe and market located at 5417 Detroit Avenue in a formerly vacant car dealership. Another is Banter, at 7320 Detroit Avenue, a popular restaurant specializing in craft beers and poutine.