Ohio City
April 5, 2017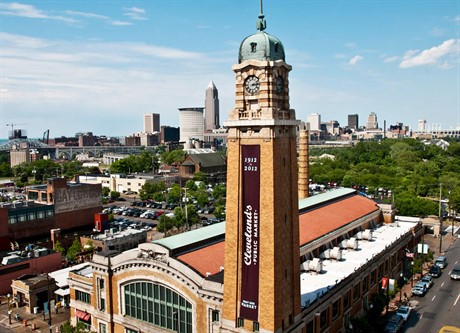 Just past 7 miles, runners will enter Ohio City, another of the most historic neighborhoods in Cleveland. It dates back to 1836, and although it was annexed by the city in 1854, Ohio City has always maintained a strong sense of independence and identity (in fact, its residents clashed with militia in 1836 in the "Battle of the Bridge," fearing the bridge would divert trade away from Ohio City).
These days, almost all of Ohio City is an historic district, and although participants will pass through different areas depending on what distance they're running, one thing everyone will see is that the neighborhood is growing. 
Marathon and half-marathon runners will travel down West 25th Street beginning at mile 7 then turn left onto Lorain Avenue, which features some outstanding examples of commercial Victorian architecture and will eventually lead them into the Detroit-Shoreways neighborhood. Runners will then pass back through Ohio City coming down Detroit Avenue in the final miles. Runners in the 10K will pass through more of the interior of the neighborhood, including Franklin Circle. 
Ohio City still has its original layout around Franklin Circle, an East Coast style that developed from the many settlers from the New England area. Although the roundabout is no longer there, James Garfield, who served as the pastor of Franklin Circle Christian Church, used to preach from that spot long before he became the 20th president of the United States.
Runners traveling down West 25th Street may look back toward downtown over Irishtown Bend. Ohio City Incorporated is currently working with a consortium of partners to turn the 23 acres of hillside into a waterfront park.
As runners reach West 25th Street and Lorain Ave. they will be entering the main business district, highlighted by the historic West Side Market, which opened in 1912 and has been featured on the Travel Channel and Food Network. The market is Cleveland's oldest continually operating publicly owned market, and today has over 100 vendors who provide a wide variety of culinary treats from all over the world.
The area has changed tremendously since 2010, with business vacancies dropping from 35 percent all the way down to under two percent.
Along Detroit Avenue is even more evidence of growth, which over 600 units of housing under construction. Runners will also notice a number of beautiful, large public art murals that were a gift from the Cleveland Foundation. The Foundation invested over $270,000 to bring in six international artists and pair them with local artists to produce 12 large-scale murals in the neighborhood.