Tremont
March 14, 2017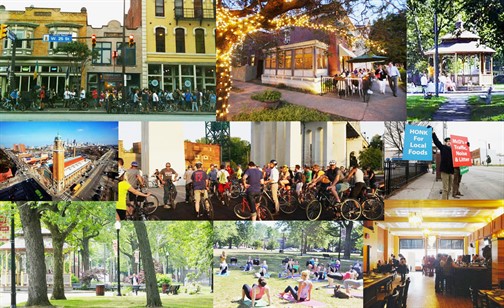 The route this year will take runners through some different parts of Tremont than they've been in the past, including two smaller connective neighborhoods. First, as runners cross the river on Columbus Road, they'll pass through a neighborhood called Irishtown Bend, recognizable by an establishment called Hoopples. Although the area is largely empty now, it was the site of the first settlement of Irish immigrants who worked in industry and lived in small houses along the hillside. Coming up the hill and turning left onto Abbey Avenue they'll pass through Duck Island, a small residential but expanding community that houses a number of small breweries.
Continuing east on Abbey at around mile 5 runners will enter Tremont, which dates back to the second decade of the 1800s when it was settled by New Englanders primarily from Connecticut and Vermont. Many of the streets — Professor, Literary, University, etc., — derive their names from the short-lived Cleveland University that existed in the neighborhood in the mid-1800s. Although no one would recognize it as such now, the area was also once home to a Civil War camp called Camp Cleveland.
Now, Tremont is one of the hottest neighborhoods in the city for young professionals and empty nesters alike who want to be close to downtown but still be able to walk to all of Tremont's destination bars, restaurants, art galleries and boutiques. Runners will travel down West 10th Street, Literary Road, West 7th Street and Jefferson Avenue and cross Professor Avenue, which is the main commercial area of the neighborhood.
Another thing runners might notice about Tremont is the number of churches. After New Englanders settled the area, wave after wave of immigrants came in large part to work in the nearby steel mills and each brought with them their own churches. It is said that Tremont has more churches within a one-mile radius than anywhere else in the U.S. Many are still operating and some still have strong ties to their ethnic roots, including Annunciation Greek Orthodox Church, St. George Antiochian Orthodox Church and Saints Peter and Paul Ukrainian church.
As runners travel down a brief stretch of Tremont Avenue and on to Starkweather Avenue at roughly the 6.5-mile mark they'll pass by Lincoln Park, the New England-style town square that's now a beautiful city park where a number of community events are held each year, including a farmer's market and free arts events including music and theater.