The Cleveland Marathon Team
May 16, 2017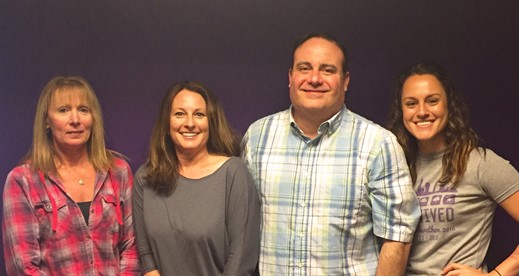 For the past 40 weeks, we've introduced you to 40 Faces of the Race, people who've been a part of the Rite Aid Cleveland Marathon as runners, volunteers and sponsors.
Now, with the 40th Anniversary race just days away, we'd like you to meet four faces without whom none of this would be possible.
These four people work year-round to make sure this one weekend is the best it can possibly be for everyone involved, so if you happen to see one of them roaming around on race weekend, stop and say thanks.
"This race couldn't go on without these four," executive race director Jack Staph said. "They really represent the faces of the race, because it starts and ends with the four of them putting it together. They have tremendous passion for this race, and once they get started they all became insanely dedicated to it. It's as much their race as it is mine."
Ralph Staph
Ralph can remember sitting on the sidewalk and cheering on his dad, Jack, as he ran in the Western Reserve Marathon in the late 1970s before Cleveland's race existed. He stayed involved in different volunteer roles as he grew up, and now he is truly following in his father's footsteps as the race director. Ralph the one primarily responsible for designing the course, working with the city, getting all the necessary permits and making sure that all the logistics are in place for the race weekend. It's not easy taking all the steps to make sure the details are all in place, but Ralph does it because of the personal pride when he sees a race weekend complete.
"There are almost no other industries where you work all year round for one weekend or one day," he said. "There's no dress rehearsal; it's a one shot thing. To see it off smoothly year after year gives you pride, and seeing people enjoying themselves and having a good race day experience is as perfect as can be."
Joan Freese
Joan is the director of runner services and race communications, which means that she's involved with everything from development and sponsors to medals and t-shirts, registration to marketing to volunteer recruitment. Those water stops and wonderful people handing you your cup of refreshment at mile 15? Joan is behind making sure that's all there. This will be her 11th race, and by now she's gotten to know so many of the longtime volunteers and legacy runners and others involved with making race weekend happen that it's become like family.
"I feel like I'm always challenged personally and stretching what I know and can do," she said of what she loves about working for the marathon. "But it's definitely the people. Working on all the moving parts throughout the year, to see it come together at the end you feel like, 'Wow, I guess that did mean something.' It's rewarding. It's almost addicting."
Darla Hudson
Darla's title is event coordinator and she has been with the race roughly 13 years, and although she refers to herself as a paper pusher, she manages to keep running an office where so much has to happen throughout the year. She works with the budget, pays the bills, handles invoicing — without which everything would truly grind to a halt — and is also responsible for coordinating the VIP events, booking hotel rooms and acting as an executive assistant to Jack Staph. The job has even gotten her into running, as it has the rest of the staff as they travel to different races and expos across the country and participate in their events to get ideas for Cleveland.
"Seeing the runners at the beginning and the end of the race is so awesome," she said. "There are so many stories out there and it's just a great event that really brings the community together. It's just a fun environment." 
Kayla Henderson
Kayla is the newbie of the team. This will be her second Cleveland Marathon, having joined the race in November 2015 as an event coordinator. Some of her duties as such include managing the marketing and social media campaigns, planning and putting together newsletters and emails, helping with volunteer and band recruitment, managing the ambassadors and guest bloggers and helping with registration, and she'll jump in wherever anyone needs her to be.
"I like the people here, and it's nice to like the people you spend half your day with," she said. "I've been involved in racing ever since I was young when I did track and cross country in school, and this field was my first job out of college. I like the management aspect of it, the fast pace and working with people who want to make sure other people enjoy the event."